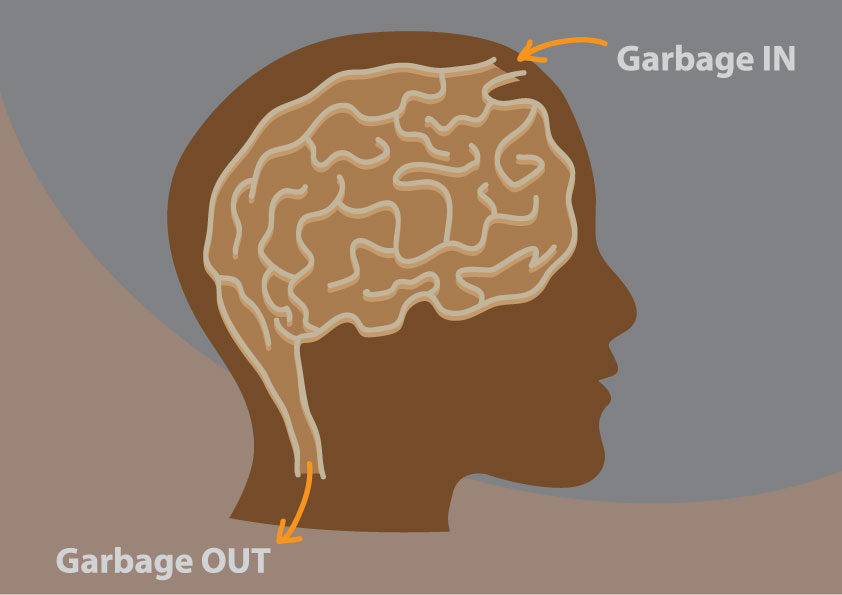 20 Sep

Garbage In, Garbage Out

I've never been much of a reader, or much into podcasts; much of my down time when I was not working , at the gym or  spending time with my family was wasted watching television.  I have been extremely blessed over the course of my life – great family, good health, successful career.  But it was about a year ago that I reached out to a business / personal development coach as I felt life had so much more to offer and I wanted to learn how I could achieve it.  We don't know what we don't know, right?  Well, after 41 years on this earth I had the yearning to enrich my life in ways that I had not experienced before.  Two of those ways were to take up reading and listening to podcasts that would enhance my career and my life.   Reading books were never very enjoyable to me; every so often I would try to get into reading, but I had this awful habit of never finishing books…it would drive my wife crazy!  Over the past few years I would read a few blogs here or there, but if it took me longer than 90 seconds to read I just did not have the time.  I like to workout on a regular basis, and in doing so I would always fill my ears with the likes of the Foo Fighters, Metallica, Pearl Jam, etc…and I still do from time to time.  Now, rather than scrolling through the television guide and landing on shows like Cops or The Carbonaro Effect, I choose to read books that are meant to inspire and learn from, that will help me become a better version of myself, which in turn will enhance the lives of those around me as well.  And at the gym I have integrated some business related and personal development podcasts into my workouts, often times in lieu of music.

GIGO.  Garbage In Garbage Out.  This phrase originated in the computer world whereas the quality of the output is determined by the quality of the input.  The same concept of course, or maybe it is not so obvious, applies to life.  I have embraced this idea over the past year and it has really made a sizable impact on all aspects my life.  NO MORE GARBAGE!  As my three daughters are really in their formative teen and pre-teen years, I am able to share concepts and ideas with them in hopes that they won't have to wait until they are 40 years old to realize!

I am using this particular blog entry as a way to exchange information as to what we are all filling our minds with that when shared, could benefit each other.  That being said, here are three of the most influential books and/or podcasts that I have read or that I listen to that have allowed me to stay focused and on point in regards to my career and my life:

BOOK:  Slight Edge
AUTHOR: Jeff Olson
IMPACT:  It is the small habits, the ones that in-and-of-themselves appear to be worthless, but practiced daily and compounded over time will make an ENORMOUS impact on your life!

BOOK: You Are a Badass: How to Stop Doubting Your Greatness and Start Living an Awesome Life
AUTHOR:  Jen Sincero
IMPACT:  This book is really about re-framing your mind and reshaping your attitude so that you can live a kick-ass life!

PODCAST: MFCEO Project
AUTHOR: Andy Frisella
IMPACT:  This podcast is not for everyone because of the language that is used, but Andy is a straight shooting entrepreneur and business owner, no fluff type of dude who offers great insight as to how to be a killer CEO of not only your business, but your career, your life, your health, etc.
What books or podcasts are you reading and listening to that greatly influence you and your career?