17 Nov

Are You Having Fun With Your Career?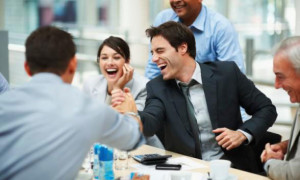 Earlier this week during the course of conducting a search for a client of mine I spoke with a TxDOT Engineer who would make a great candidate for a position I was recruiting for. After discussing with him his career and the specifics of the opportunity he explained, "Matt, that sounds like a great opportunity for someone, but I'm having too much fun to leave to go anywhere else." Not the outcome I was looking for, but we had a good laugh and talked about the importance of having fun in one's career. I see it as a very important element of a job – I mean you are spending anywhere from 8-10 hours a day (and often more for some folks) at work, you might as well enjoy what you are doing, right? It got me to thinking what I love so much about my job as a search consultant and what makes it fun for me:
1. The challenge. The pursuit of finding the ideal candidates for my client that will help them prosper and grow is very exciting to me. The opportunity to deliver a candidate that can make an impact on my client's business, and the opportunity to provide a new role for someone who may not have that same opportunity with their current company gives me great satisfaction.  It is also fun to compete with my teaming partners and AGAINST other recruiters!
2. The relationships. Having the opportunity to serve so many wonderful clients over the years and forge some great working relationships is what gets me out of bed every day. Certainly I have worked with my fair share of clients who were not necessarily my cup of tea, but that comes with the territory. It is an honor to work for many great clients who are equally as passionate about what they do for a living as I am.
3. The variety. I am fortunate to work with a wide variety of consulting civil engineering firms across the country. Some clients are small, local consultants who serve their local community, while others are large regional and national firms. I am exposed to working with all types of civil engineers in land development, water/wastewater, and transportation, just to name a few.  I speak with company CEO's, Vice Presidents, and wide array of principal level shareholders; I speak with technical experts and project engineers; I interact with human resources and business development executives, all within the civil engineering profession.  Every day is a little different than the day before, and every conversation is different than the one prior.  The variety that I am exposed to keeps me challenged and on my toes.
What is it about YOUR job as a civil engineer that makes your job fun for you?