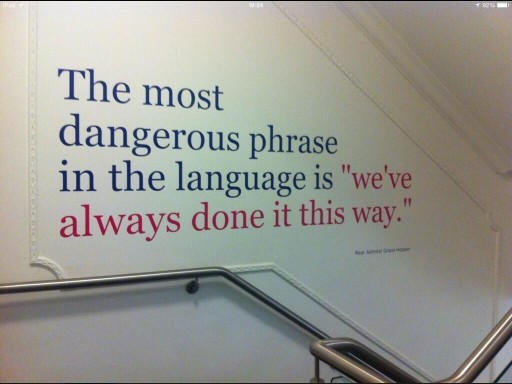 24 Nov

The "We've Always Done It This Way" Mentality

As a search consultant I have the opportunity to speak with dozens of civil engineering professionals across the country on a daily basis.   I speak with key executives in the C-Suite, Project Engineers, and to every level of civil engineering professional in between.   After learning about their skill set and their contribution to their organization and to our nation's infrastructure I always ask the following question:

"What would be a motivating factor that would prompt you to explore a new opportunity?"

Most of the time I get responses that include phrases like:
"More opportunity"
"Glass ceiling"
"Larger, more challenging projects"
"More responsibility"
"Smaller company"  / "Larger company"
But every so often I will connect with a candidate who is working for a firm where the existing leadership has the ol' "if it ain't broke don't fix it mentality."
Over the past few months I have run into a number of firms who just cannot get out of their own way as a result of their "we've always done it this way" point of view.
I recently heard of a firm that was poised for growth and had determined that they had to make some changes by creating a couple of new positions that would really help take them to the next level.  One of these positions was Chief Operating Officer.  The Board of Directors developed a detailed job description that outlined a  plan moving forward and the positive impact that the addition of a COO would make.  At the end of the day they decided to put the role on the back-burner for no other reason than the company ownership, all of whom have been with the company for 35+ years,  felt that what they were doing has worked for the past twenty five years and there was no sense changing things up.  The younger generation of engineers and future leaders of this organization are unsettled by all of  this and will likely be future leaders somewhere else.
Another firm that has a strong tradition of excellence within the Mid-Atlantic region is unwilling to budge on their vacation policy.  Not one single person they say, from the CEO on down, receives more than three weeks of vacation.  It is non-negotiable.  I am all about hard work, trust me, I am typing this on a Saturday.  But to remain competitive in the marketplace you need to be able to do better than three weeks vacation, especially for senior level professionals who have certainly earned four weeks anyway.   This is another example of an existing ownership with an "old school" mentality that is not able to see the forest through the trees, in my opinion.
There are plenty of companies out there who lag behind in technology, training, and who preach a culture and a philosophy of innovation but whose actions show otherwise.
On the other hand, I have had some first hand experience working with clients who understand the importance of change,  organizational evolution, and constant re-evaluation.
I recently worked with a client who saw an enormous amount of opportunity in the marketplace, but just could not break free from their 30 employee shell.  The CEO of the company reached out to me and shared with me his vision to become an ENR Top 500 firm, and he was ready to invest in the right people to make that happen.  He was acting as CEO, COO, Director of Business Development and Director of Engineering, and as you can imagine,  could barely see one step ahead of himself.  We successfully conducted a search for him and he now has in place a Director of Engineering and an Executive Vice President who has actively taken on the operations element of the firm and is contributing to business development and strategy.  As a result of investing in these two key hires they are looking to double in size in the next 18 months.
Another client  has been in business for nearly 40 years and is in its second generation of ownership, currently working towards the third generation.  The company ownership is split between five or six shareholders, but they have limited the length of time that shareholders can be shareholders.  This allows for the semi-regular turnover of ownership which leads to the replenishment of fresh and innovative ideas.
Another firm not only encourages its employees to think "outside-the-box," but they actually allow for those ideas to be implemented.  As traditional and conservative as civil engineers traditionally are, the willingness to try something new may seem a little risky, but their clients REALLY enjoy their willingness to present innovative approaches and concepts to many age old problems.   This type of mentality and philosophy is attractive to many people and as a result helps them bring top talent in the door, and it excites the clients and keeps them coming back for more.
Change can often be scary, but it is necessary.  History shows that those firms who are satisfied with the status quo, and who drown themselves in   "we've always done it this way"  mentality will eventually be left in the dust.
May you not be left in the dust!