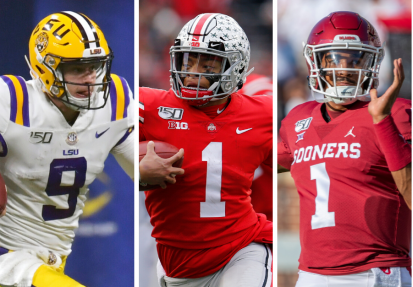 03 Feb

What can you learn from these three elite college QB's?

Joe Burrow. Justin Fields. Jalen Hurts.

Do these names ring a bell? They should.

In the event you are not a college football fan, these three extremely talented athletes were the starting quarterbacks for the LSU Tigers, THE Ohio State University, and the University of Oklahoma, respectively, this past college football season.

All three were finalists for this past year's Heisman Trophy, the award given to NCAA Football's most outstanding player of the year. The winners of this trophy each year epitomize unparalleled talent combined with hard work, attention to detail, and the desire to win.

Joe Burrow ended up taking the honor.

What makes this group of quarterbacks unique is that each of them, prior to landing at their final academic institutions, actually started their college football careers at other schools; schools that had STRONG traditions of excellence when it comes to college football.

Joe Burrow was a back-up QB at Ohio State, a perennial football powerhouse.

Justin Fields was a back-up QB at the University of Georgia, a pillar of SEC football.

Jalen Hurts was the starting QB at Alabama, and in fact had lead them to two National Championship games.

Most days, as a civil engineering recruiter, I make over forty recruiting calls. I obviously do not connect with candidates on all of those calls, but having followed this routine for the past 23 years, you can imagine the number of civil engineers I have spoken to.

The candidate's I remember working with the most though, are the ambitious ones – they could've have easily coasted along in their careers, but they were driven to want more. They are:

🔥The one's who are working for some of the top consulting engineering firms in their city, state, region, or country.

🔥The one's who are working for firms who are regularly recognized for the quality and complexity of projects they complete.

🔥The one's who work for firms recognized for the thought leaders and innovators they have on board.

🔥The one's who work for firms recognized as "fastest growing" or "hot firm" or "best place to work" by the different publications that rank such designations.

Despite swimming in the comfort of such recognizable operations, my favorite candidate's are the one's who want more for themselves and their careers. They are the one's who are willing to break free from the ties that bind. They are the ones that realize no matter how "great" their employer is, no matter how many accolades their employer receives, no matter how shiny their "golden hand-cuffs" may be, they break free!

They break free to better themselves.

They break free to take on leadership roles that, no matter how "great" their current employer is, will challenge them and open up a new pathway to their ultimate success.

Who knows what would have happened to Burrow, Fields, and Hurts if they all just stayed where they were? Maybe they would have broken through or overcome and ultimately landed starting roles.

But maybe they would not have.

Rather than waiting for the QB ahead of them in the depth chart to get hurt, lack production, graduate, make a poor choice outside of the game, or transfer, THEY made the decision to leave.

They took their academic and, what likely will be their professional careers, into their own hands.

Do you think it was hard for Joe Burrow to leave the Ohio State football program which has won 38 Big Ten titles since it entered the league in 1912, and since the year 2000 has won 10 Big Ten Championships? Oh, and by the way, Burrow played high-school football in Ohio and won the state's highly sought after "Mr. Football" award.

Do you think it was hard for Justin Fields to leave the University of Georgia? Georgia is not only where Fields grew up and where all of his family was, but their football program, according to Wikipedia, has won 15 conference championships, including 13 SEC championships (tied for second-most all-time), and have appeared in 56 bowl games, tied for second-most all-time. The program has also produced two Heisman Trophy winners, four number-one National Football League (NFL) draft picks, and many winners of other national awards. Georgia has won over 800 games in their history, placing them 11th all-time in wins and has finished in the Top 10 of the AP Poll 24 times, 12 of which were Top 5 finishes.

Do you think it was hard for Jalen Hurts to leave a storied Alabama football program with arguably the best coach in college football history, and after leading his team to the SEC Championship and two national championship games his first two seasons?

They all left for different reasons, and in the end, they all up'd their games as a result.

I will share with you a quick story. Three years ago I successfully recruited a Vice President of Land Development engineering from one of THE MOST awarded consulting engineering firms in the country. Most people "drink the kool-aid," and he did for MANY years. For a number of reasons, he chose to accept my initial recruiting call and I ended up placing him with one of my clients in a leadership role. This gentleman went from the comfort of what he knew, he took the key and unlocked the "golden-handcuffs," and was tasked with starting a brand new office for a company that was entering his geographic market.

This past week he was named a shareholder.

Joe Burrow was crowned Heisman Trophy winner, won the National Championship, and will be the first QB drafted in the upcoming NFL Draft, and likely the first overall pick.

Justin Fields, who wound up third in the Heisman Trophy vote total and who accounted for 41 TD's and 3 INT's his sophomore season will be returning to Ohio State, and will lead a Buckeye football squad that is ranked #2 in pre-season polling for the 2020/2021 season.

Jalen Hurts, who finished 2nd in Heisman voting throwing for over 3,800 yards and rushing for just shy of 1,200 yards, will have the opportunity to fulfill his dream of becoming an NFL QB, as he will likely be a first or second round draft pick.

Take a good, hard look at yourself in the mirror.

Are you ready to up your game?

The ball is in your hands.