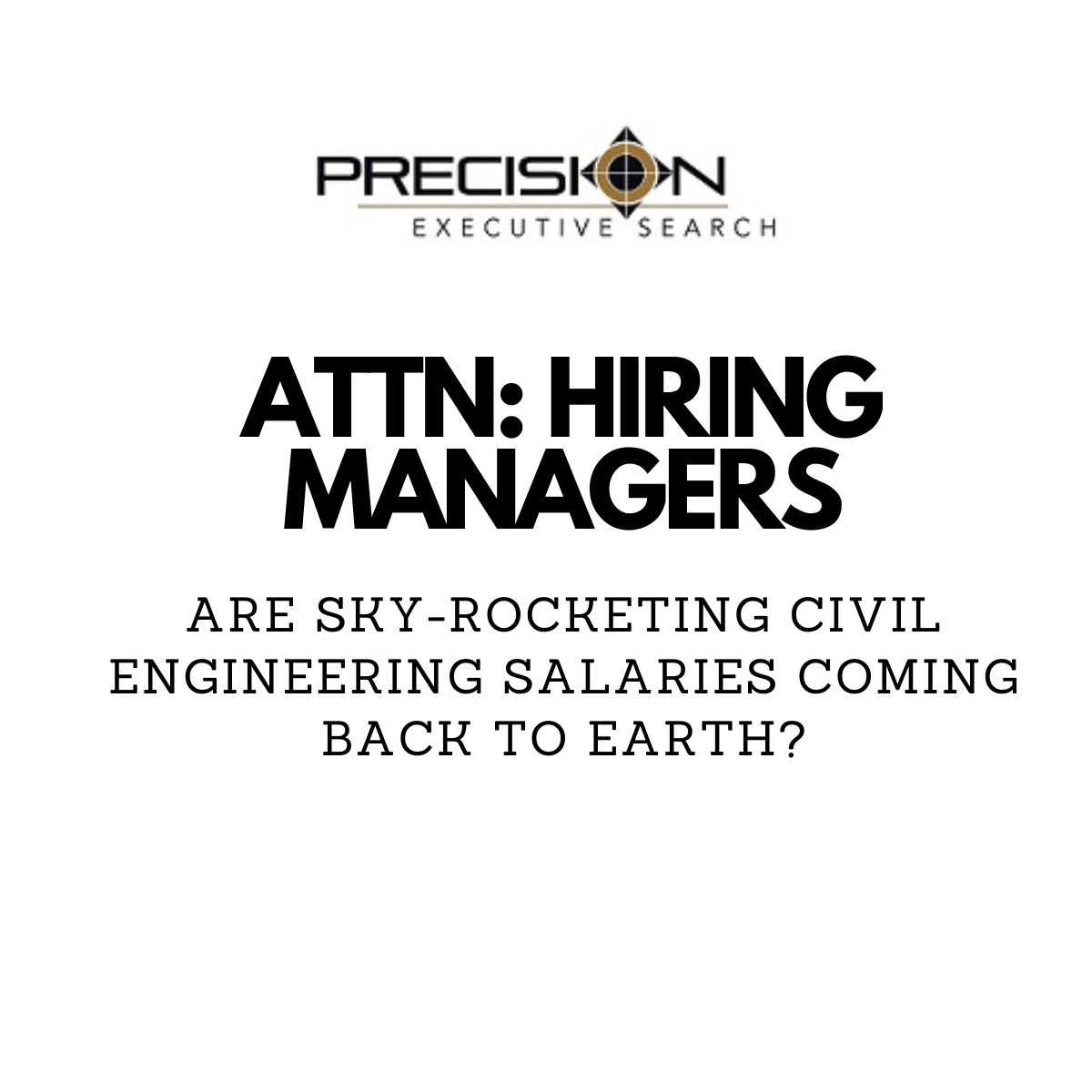 31 Jul

ARE SKY-ROCKETING CIVIL ENGINEERING SALARIES COMING BACK TO EARTH?

Over the course of the past couple of years it seems as though salaries for civil engineers have risen pretty aggressively. Don't get me wrong, I'm all about the free-market and "gettin' while the gettin's hot," and it's nice to see Civil Engineers making some improvements along those lines compared to their peers in other engineering disciplines as the work they perform is SO CRITICAL to our economy, infrastructure, safety, etc.

Over the course of the past few weeks I have witnessed:

👉🏼 Engineering firms starting to hold firm on what they believe are reasonable offers as to maintain margins and billable rates and not completely upset the apple cart internally by then having to adjust everyone's salary.

-BUT ALSO-

👉🏼 Civil Engineers still seeking aggressive raises in order to make a move. Over the past few weeks I had an engineer after the first interview indicate he would need a nearly 100% raise to leave his current firm. Not because it was a risky opportunity or a firm with a bad reputation or anything like that, but merely because he felt he was in a pretty good position with his current firm. I get it, 100%. But he was actually very interested in the role only to have the door shut on him after making the request. I also had an engineer reach out to me who was again, very happy with the current role and company, but was looking to find another role doing something slightly different within the field as the repetitiveness of doing the same type of work had become monotonous. That said, she wanted to try something new and different, but ONLY if it came with a 50% increase in her salary.

Has your firm become more restrictive in the salaries that they are able to offer or are you still being aggressive with offers in order to capture top tier talent in an amazingly tight, candidate driven market❓

I'd love to hear your thoughts!