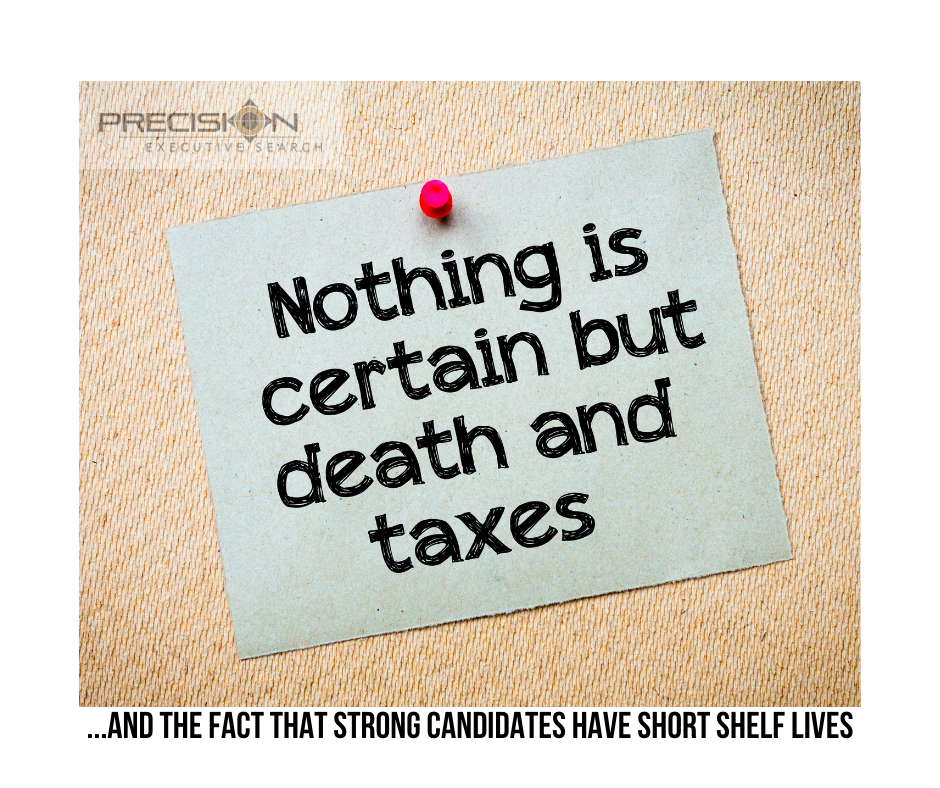 29 Sep

Death, Taxes, and Great Candidates Have Short Shelf Lives

Death, taxes, and great candidates have short shelf lives…three certain things in life!

Yesterday I had a candidate start with one of our clients in his new role as North Texas Regional Director…a very exciting day as our client was in great need as the gentleman in that role prior had been promoted, but was holding down the fort for until such a time as his replacement was identified. Additionally, the candidate was not satisfied with the role he was in previously, AND, he was able to relocate back to Texas to be closer to family…so a win/win all around.

Though our client was continuously the front-runner during the candidate's interview process, there was another firm nipping at his heels. It was another great opportunity for our candidate, one that he intended to pursue until the end, but that particular firm continued to drag their feet through an exhaustive interview process, which in the end, ended up biting them in the ass.

The interview process with our client consisted of three Zoom calls, a reference check, which was followed by a strong offer…all completed in just less than a month.

Now, he was submitted to the other firm in mid-July, and by mid-September he was still in the midst of the interview process with the other firm. Over the course of eight weeks he had a phone interview with Human Resources, a phone interview with the Sr. Vice President, a Zoom call with the executive leadership team, two online personality assessments, a phone call with an organizational psychologist, and a call with the CEO was on the calendar for the second half of September. I'm all about due diligence, but come on!

As much as he wanted to complete the process with the other firm, their process, as valuable as it may be to them, ended up costing them a great candidate.

One thing I learned over 20 years ago when I started in this business…strong candidates have a short shelf life…and this still VERY MUCH holds true today.