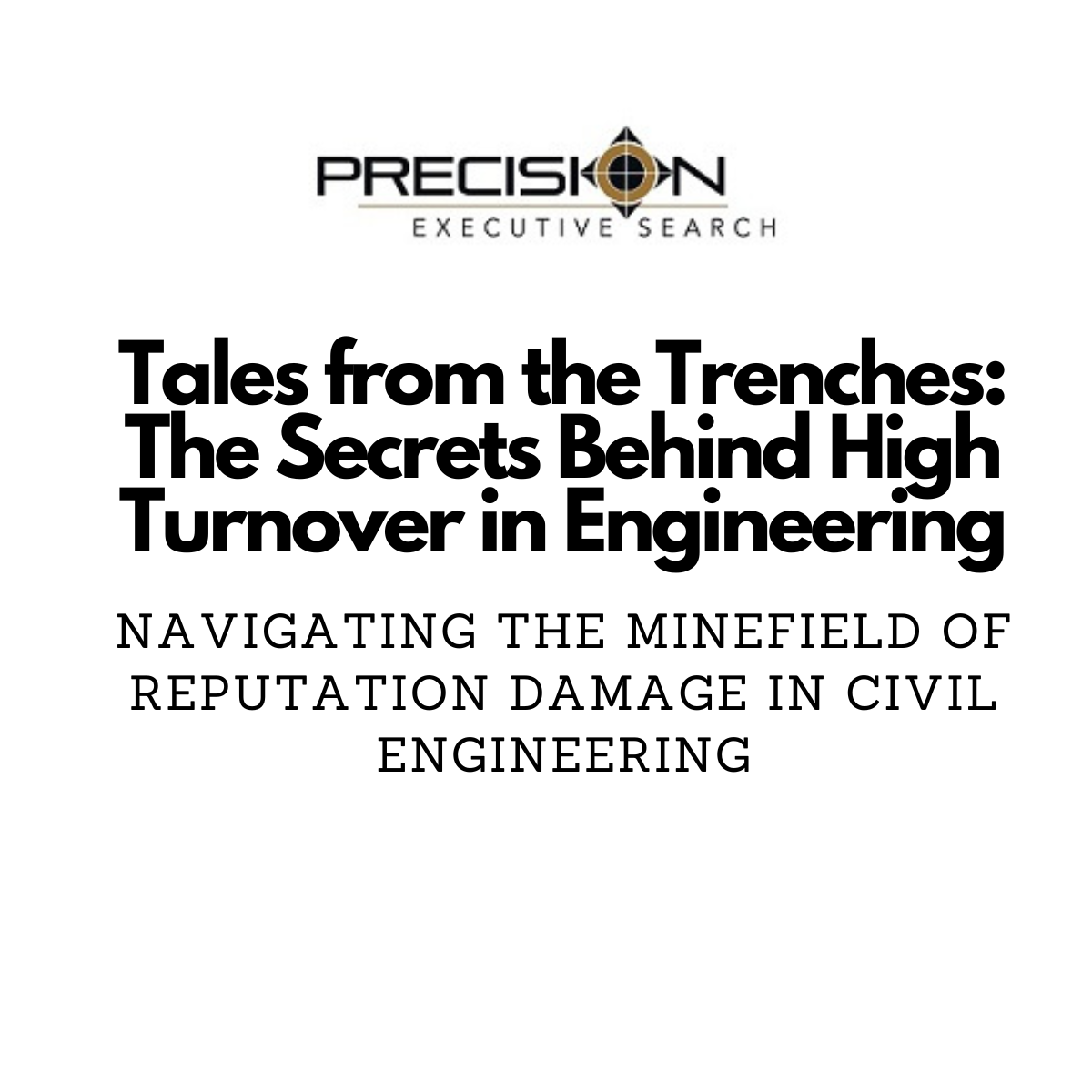 06 Sep

Tales from the Trenches: The Secrets Behind High Turnover in Engineering

Interested in what it takes to earn a bad reputation that leads to high turnover and the ability to shield yourself from top #civilengineering talent?

Here are some prime examples we have experienced over the years that can tarnish your firm's reputation in the marketplace:

😓𝐑𝐮𝐧 𝐲𝐨𝐮𝐫 𝐟𝐢𝐫𝐦 𝐚𝐬 𝐚 𝐬𝐰𝐞𝐚𝐭 𝐬𝐡𝐨𝐩. Early in my recruiting days when I was still "wet behind the ears," I tried recruiting for a couple of firms who had the reputation of a sweat shop. They were like the Goldman Sachs of consulting civil engineering. Word gets out quickly!

🤑𝐌𝐢𝐬-𝐦𝐚𝐧𝐚𝐠𝐞𝐦𝐞𝐧𝐭 𝐨𝐟 𝐂𝐨𝐯𝐢𝐝 𝐑𝐞𝐥𝐢𝐞𝐟 𝐟𝐮𝐧𝐝𝐬. I recently heard of a firm who accepted significant Covid Relief money. Rather than laying people off, they found a loop-hole and started "firing" folks so they could milk their newly found "slush fund." It didn't take long for word to hit-the-street of their behavior, and my guess is they will struggle to attract new talent unless that talent has had their head buried in the sand like an ostrich.

💰𝐏𝐚𝐲-𝐭𝐨-𝐏𝐥𝐚𝐲. I'm not sure how often this happens any more, but a decade or two ago it was not uncommon for firms to "pad" peoples salaries so they could make appropriate contributions to people of influence. Many folks felt as though that was a "slimy" way to operate and wanted to work for firms that had some pride in that they could win work based upon the quality of their product and service.

👷🏼‍♀️𝐃𝐨𝐧'𝐭 𝐡𝐢𝐫𝐞 𝐰𝐨𝐦𝐞𝐧. Many years ago as I was evaluating a potential new client who requested I not submit any female candidates as they just "cause too much drama." Don't worry…I did not submit ANY candidates as I walked away from that client.

👨🏼‍💻𝐇𝐚𝐯𝐞 𝐚 𝐬𝐭𝐫𝐢𝐜𝐭 𝐑𝐞𝐭𝐮𝐫𝐧-𝐭𝐨-𝐎𝐟𝐟𝐢𝐜𝐞 𝐩𝐨𝐥𝐢𝐜𝐲. The Covid era pulled forward the WFH concept which had already been churning for quite some time. Each company seems to have their own policy now, but those firms who offer ZERO flexibility regarding remote work when it has been proven to work (in most cases) will not bode well moving forward if they are looking to grow.

🌍𝐔𝐧𝐝𝐞𝐫𝐩𝐚𝐲 𝐟𝐨𝐥𝐤𝐬 𝐰𝐡𝐨 𝐚𝐫𝐞 𝐰𝐨𝐫𝐤𝐢𝐧𝐠 𝐨𝐧 𝐇1-𝐁 𝐯𝐢𝐬𝐚. I have spoken with numerous civil engineering professionals who are highly intelligent, high producing engineers who know they are being underpaid but feel like their hands are tied until they receive their Green Card, at which point they end up moving on. If your firm is guilty of this, you can't expect to all-of-the-sudden pay someone what they are worth once they get their Green Card and expect there to be no hard feelings about that.

📈𝐑𝐞𝐪𝐮𝐢𝐫𝐞 𝐞𝐦𝐩𝐥𝐨𝐲𝐞𝐞𝐬 𝐭𝐨 𝐰𝐨𝐫𝐤 𝐦𝐨𝐫𝐞 𝐭𝐡𝐚𝐧 40 𝐡𝐨𝐮𝐫𝐬 𝐩𝐞𝐫 𝐰𝐞𝐞𝐤. I don't know many civil engineering consultants who work less than 45-50 hours per week, it kind of comes with the territory. That said, using an iron fist and mandating a 44 or 45 hour week is a tactic that is frowned upon by most.

Thoughts?